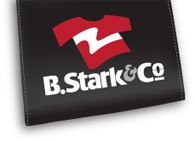 Where is B.Stark & Co. located?
We are located in the city of Mankato, in Southern Minnesota. Click
here
for further information and directions to our shop.
What are your hours?
B.Stark & Co. is open Monday through Friday, 9 a.m. to 5 p.m. We can arrange other times by appointment.
What kinds of clothing can I have printed?
Please check out our
catalog section
for a wide variety of items we can decorate.
What is the minimum number I can order?
We do not have a minimum number of shirts you need to order. However, screen printing just one or 2 shirts is expensive. If at all possible, when ordering screen printed items it is advisable to try to make it to the first price break, which is 10 items.
How can I get a quote?
Click
here
to request a quote from us online. As an alternative you can email us at
sales@bstark.com
, or phone us Monday through Friday at 800-742-1352.
How can I place an order?
To place an order, please email us at
sales@bstark.com
, or if you prefer call us toll-free Monday through Friday at 800-742-1352.
Will I be able to see my design before you make the shirts?
Yes. We will send you an email proof for you to review and share with your group. We will not proceed with your order without your approval of the design.
When will I receive my order?
Our normal production time is two weeks from the finalization of your order. This does not include shipping time.
What if I need my order in less than a week?
Faster times can sometimes be arranged. Call us at 800-742-1352 to discuss a faster turnaround.
What payment methods do you accept?
We will accept a mailed personal or organizational check, money orders, and credit or debit cards.
Do you accept purchase orders?
Yes. We also accept school or business purchase orders. Please request a credit application from us at
sales@bstark.com
to set up your account.
Will you ship an order without payment?
We do not send orders C.O.D.
Can I add more shirts to my order after the order has been placed?
We will make every effort to accomodate add-ons that often are requested after the original order is placed. However, if the order is too far into production, the add-ons may have to be produced in a different run...which may result in a higher price per item for the add-ons.
Can I change the sizes in my order once the order has been placed?
Sizes may be changed if they are requested early enough in the production process,. However, in the event of a change you may be charged a 30% restocking fee... the same amount our suppliers charge us.
Can I order more than one design on multiple shirts and get a bulk discount for the total number of shirts ordered?
No. The bulk pricing is based on runs of the same design on mutiple items. More than one design requires more time for labor, etc., which results in a higher cost.
What is your return policy?
Because the work is unique and custom made, we will not acceprt returned merchandise, except under the following conditions:
1) The clothing is shown to be defective;
2) The design is not the approved design.
Can you print over the zipper on a hoodie?
Yes. Some designs work better than others for this technique. Send us your design with our
Ask A Question
form or call us at 800-742-1352 to discuss the idea you have in mind.
Can you embroider and print on the same shirt?
Yes. Please
email
or call for more details & pricing information.
What is your maximum print area?
Our maximum print area on most items is 13 inches wide by 13 inches tall.
Do you match Pantone colors?
Yes. With our screen printing ink color match mixing system, we are able to achieve Pantone matches with opaque screen printing inks.